Our librarians have just held their annual Mock Newbery discussion
What's a Newbery, you ask? It's an annual award for the author of the most distinguished book for children, given by the Association for Library Services to Children (part of the American Library Association).
What's a Mock Newbery discussion, you wonder? A fun way for librarians to predict which book will be given the award. (Two years ago, our clever librarians were right -- When You Reach Me won the "award" in the library and in real life!).
This year, we selected six books to discuss.  They are:
Trapped: How the World Rescued 33 Miners from 2,000 Feet Below the Chilean Desert by Mark Aronson
Jefferson's Sons:  A Founding Father's Secret Children by Kimberly Brubaker Bradley
Junonia by Kevin Henkes
A Monster Calls by Patrick Ness
Bluefish by Pat Schmatz
The Girl Who Circumnavigated Fairyland in a Ship of Her Own Making by Cathrynne M. Valente
After discussing each book as related to the official Newbery criteria, the librarians took different colored M&Ms to mark their first, second, third, and fourth place choices for the award. Three rounds of voting were held. Fourth place votes were awarded one point, third place votes were awarded two points, second place votes three points, and first place votes five points. (Unlike the real Newbery voting, it was much more delicious.) Each book's votes were tallied after each round of voting.
Round 1 Results:
Trapped: 4 votes
Jefferson's Sons: 18 votes
Junonia: 20 votes
A Monster Calls: 72 votes
Bluefish: 34 votes
The Girl Who Circumnavigated Fairyland in a Ship of Her Own Making: 16 votes
Our clear winner was A Monster Calls by Patrick Ness - so we held three rounds of voting for Honor spots.
Honor voting round 1:
Trapped: 1 vote
Jefferson's Sons: 54 votes
Junonia: 39 votes
Bluefish: 54 votes
The Girl Who Circumnavigated Fairyland in a Ship of Her Own Making: 38 votes
Honor voting round 2 was held between Jefferson's Sons and Bluefish which had tied for our first place honor with 54 votes each. The winner of our first place honor, with 33 votes, was Bluefish. Jefferson's Sons took our second place honor with 31 votes, and after a third vote for the third honor, The Girl Who Circumnavigated Fairyland took the spot with 36 votes over Junonia's 28.
Our three honor finalists:
Congratulations to A Monster Calls by Patrick Ness for overwhelmingly winning the Highland Park Public Library Youth Services Department Mock Newbery Award!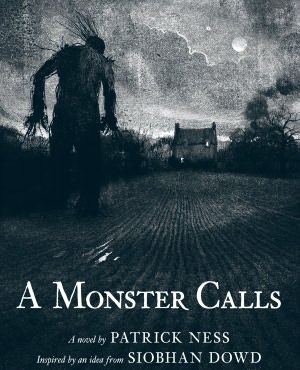 ALSC will announce the official winners of the Newbery and Caldecott Medals this coming Monday, January 23. Stay tuned for a post about the real winners!